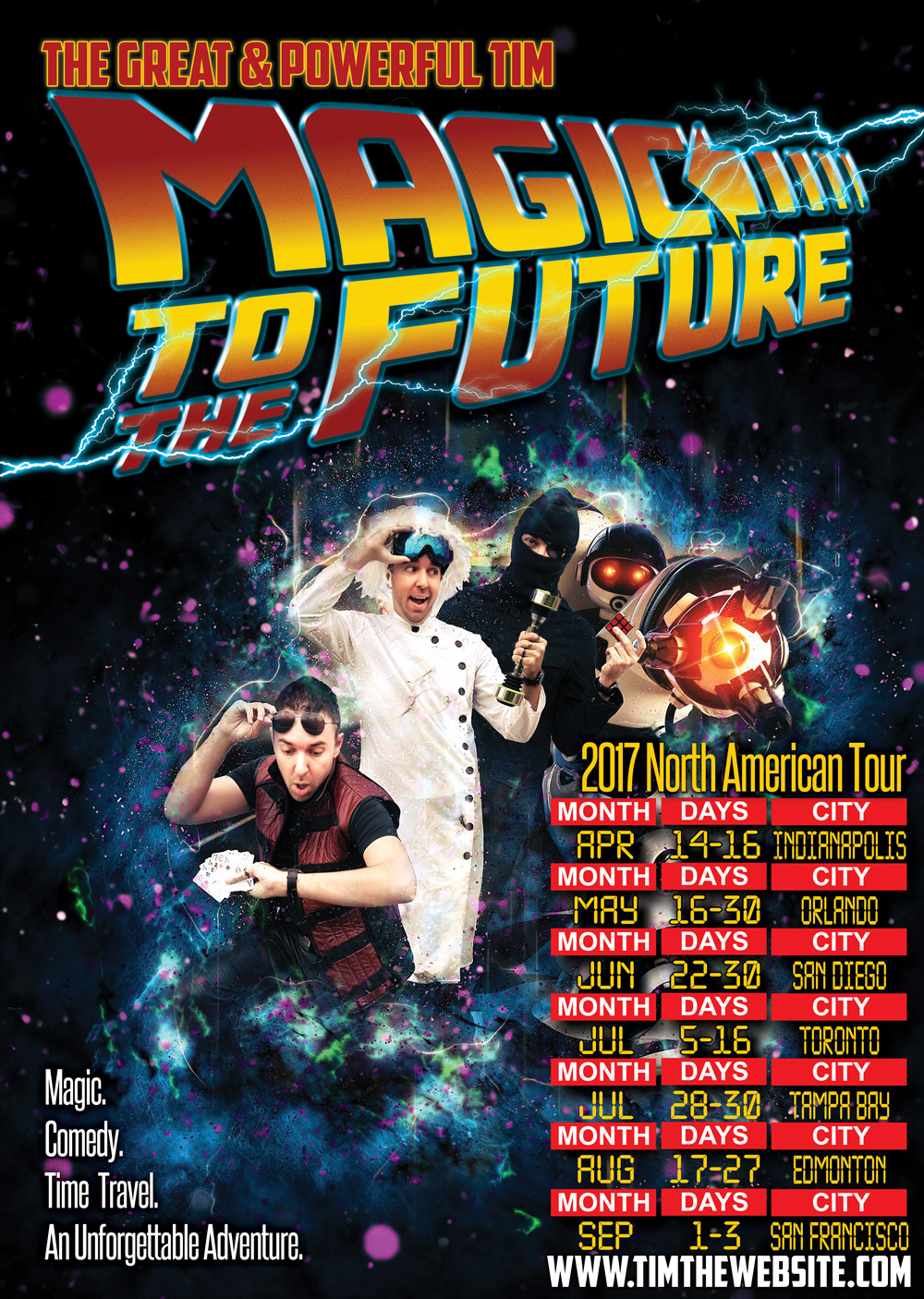 Events: Indiana Comic Con, Orlando International Fringe Festival, San Diego International Fringe Festival, Toronto International Fringe Festival, Tampa Bay Comic Con, Edmonton International Fringe Festival, San Francisco Comic Con
Cities: Indianapolis, Orlando, Toronto, San Diego, Edmonton, Tampa Bay, San Francisco
Dates: April 2017-September 2017
Tim's third tour show continued to up the ante on his wacky combination of story and magic. He toured to 7 cities and did 34 performances of the show, his longest schedule to date.
When an accident sends an unconfident magician's assistant back through time, does he have the courage to do a show on his own and generate enough magic to get back to the future? A tribute to 80s films from Back To The Future to The Terminator. Featuring a robot that solves Rubiks cubes, a shake weight time machine, and a mind-reading goldfish.
For the first time, Tim took a show to multiple Fringe festivals, including ones outside the country. Garnering awards such as The Scope At Ryerson's Top 5 Fringe Shows To See, and performing to sold out houses at Edmonton Fringe, the largest Fringe festival in North America.
"A silly, largely improvised, and self-deprecating hour. Tim is full of charisma and kooky humor." -Orlando Sentinel
"Goofy as all Hell but the premise works and the show is actually a lot of fun. Hoffman has a likeable down to earth stage persona. Makes for a fun and entertaining hour." -Mooney On Theatre
"Leaves you wondering how he did it. The man's sense of humour and the way he poked fun at his own low-tech staging spurred the audience's laughter and applause." -Edmonton Journal
Reviews:

Orlando Sentinel

 Edmonton Journal

Mooney On Theatre